Headless Commerce: the future of retail
With Headless commerce, organizations can offer customized experiences, achieve the freedom to test, increase their agility and scale more efficiently
---
In the past two years, the change we saw in digital commerce required new organizational and technological strategies. The Customer Journey is always more shattered, new touchpoints are standing out so brands and retailers of each sector must be able to grow their online business in this new scenario. In this context, the so called "headless" commerce solutions are developing, where the front-end is decoupled from the back-end level.
Thanks to this new paradigm, organizations can build customized experiences for their clients, achieve the freedom to test, increase their agility and scale more efficiently. Let's see more in detail.
What makes Headless Commerce different?
E-commerce platforms were originally created to shop via desktop. They were a monolithic architecture with back-end and front-end components strictly coupled. However, the growth of mobile commerce in the last decade and the rise of many other forms of e-commerce prompted brands and retailers to seek for a more flexible approach: the headless e-commerce.
The main distinction factor of the "shopping without head" architecture is that the back-end and front-end components are decoupled systems that communicate through an API.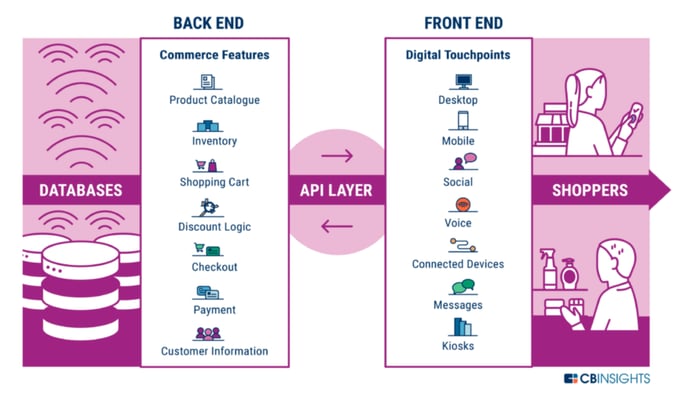 Companies can employ back-end database, with information from sources such as CMS platforms, to manage functions like product's information, the marketing logic behind promotions and discounts, and the checkout. Then this output – think of product images, prices, "buy it now" buttons – is pushed via API to front-end experiences, which can include any digital user interface. This can make it easier for companies to allow customers to transact using tools such as mobile apps, Instagram shop pages, or even interactive stands.
What are the benefits for brand and retailer?
One benefit of the Headless approach is that it helps brands and retailers offer tailor-made and unrestricted shopping experience to clients by enhancing the efforts needed to attract and retain consumers. Let's see how.
UX AND BETTER WEB NAVIGATION
The use of an API based architecture makes it easier to provide front-end experiences to dealers using the Progressive Web Applications (PWA) technology. This can significantly fasten the page loading speed, which leads to an increase in sales conversion rates by reducing page abandonment. A Google survey found out that 53% of visits to mobile websites are abandoned if the pages take more than 3 seconds to load, which results in lost revenue for brands and retailers.

At the same time, Headless platforms allow to have the same information (optimized) on a wide range of devices and contexts. A particularly important factor for mobile commerce.


DIFFERENTIATED DIGITAL EXPERIENCES AND FASTER DEPLOYMENT
With the sudden rush to offer more substantial e-commerce solutions during the Covid-19 pandemic, offering differentiated digital experience is becoming more and more essential to attract online buyers.

Sellers who use a headless approach could find this task really easy. The modular nature of Headless e-Commerce architecture makes it easier for merchants to create new digital experiences, for example, through:

the addition of commercial skills on several digital points of contact

(social media, smartwatch, connected cars, etc.);

customized shopping experience on different touchpoints;

the adoption of new business models.
A headless engine allows brands and retailers to experiment with the front-end without requiring developers to make changes to the back-end. For example, this could help reduce the necessary time to launch a new touchpoint or to test a new A/B purchase flow.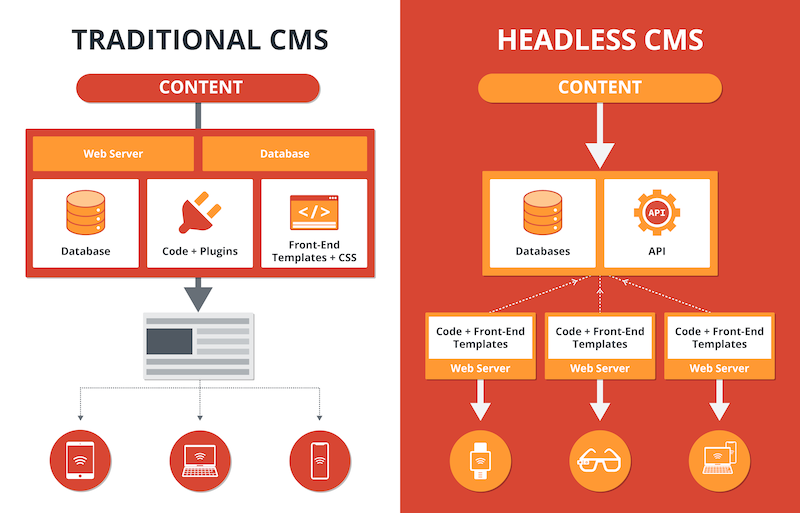 Will Headless Commerce become the new normal?
Looking ahead, headless commercial architecture is destined to continue to gain traction. It will likely become the approach for brands and retailers who want and can afford to tap into more elaborated e-commerce channels - including smartwatch, instant messenger such as WhatsApp, re-commerce, and much more.
Currently, the adoption will be limited to small and medium-sized enterprises due to steep set up costs and the need to have a dedicated engineering team to manage the infrastructure and make changes. In the future, accessibility and ease of use of low-code/no-code services will likely define how quickly small brands and retailers can implement a headless commerce architecture.
But those who employ it will find themselves in a better position to compete with e-commerce giants like Amazon.